Whenever you're creating a topic, you use the WYSIWYG editor to add content to your steps, articles, and launchers. More often than not, your topics require some visual elements to make them more clear and appealing. In Inline Manual, you can add various types of content to your topics such as images, videos or GIFs. With the WYSIWYG editor (WYSIWYG stands for what you see is what you get), you can customize and enhance your guides look. The WYSIWYG editor gives you all the tools you need to create engaging content.
In this article, we'll discuss functionalities of the WYSIWYG editor.
Text and Paragraph Formatting

You can add:
text it in the content area.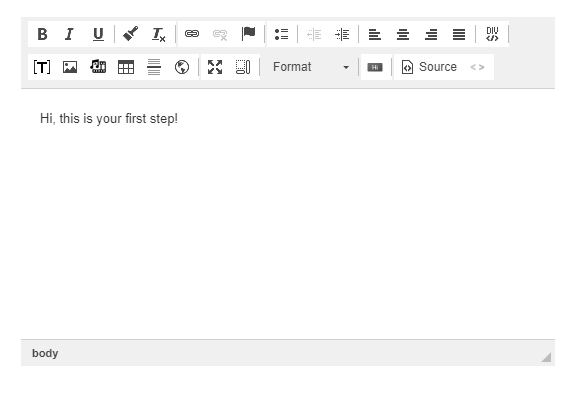 emphasis to your content - make the text bold or italic, highlight most important parts, or insert bullets and indentations. Don't forget to set the alignment of your paragraphs.

Media and Objects

You can add:
tokens to create more personalized experience,






Links and Anchors

You can add:
insert links or anchors for better navigation. This is useful if your next step will be on a different page or location.

Editing options

You can:

create a div container to create divisions, or to group block-elements for styling,

use Show Blocks for visual layout while editing,

use the maximize button to get more space on the Authoring tool while editing.

Custom Buttons

You can:
add custom buttons for better navigation. Read more here.

Related articles

Walkthroughs
Launchers
How to: add Wistia video
How to: add a link
How to: add aimage
How to: add a table
How to: add a video
How to: add iframe to a step
How to: the code view
How to: create a div container
Custom HTML links/buttons
How to: custom buttons
How to: the Step Options Panel